The King Cottage was moved to South Park and placed behind the Hutchinson House in 1975. The Waupaca Historical Society, at the time, only operated the Hutchinson House and thus was looking for more room for storage. Working with the City of Waupaca, the Waupaca Historical Society moved the cottage from King to its current location and immediately utilized it for artifact and office storage.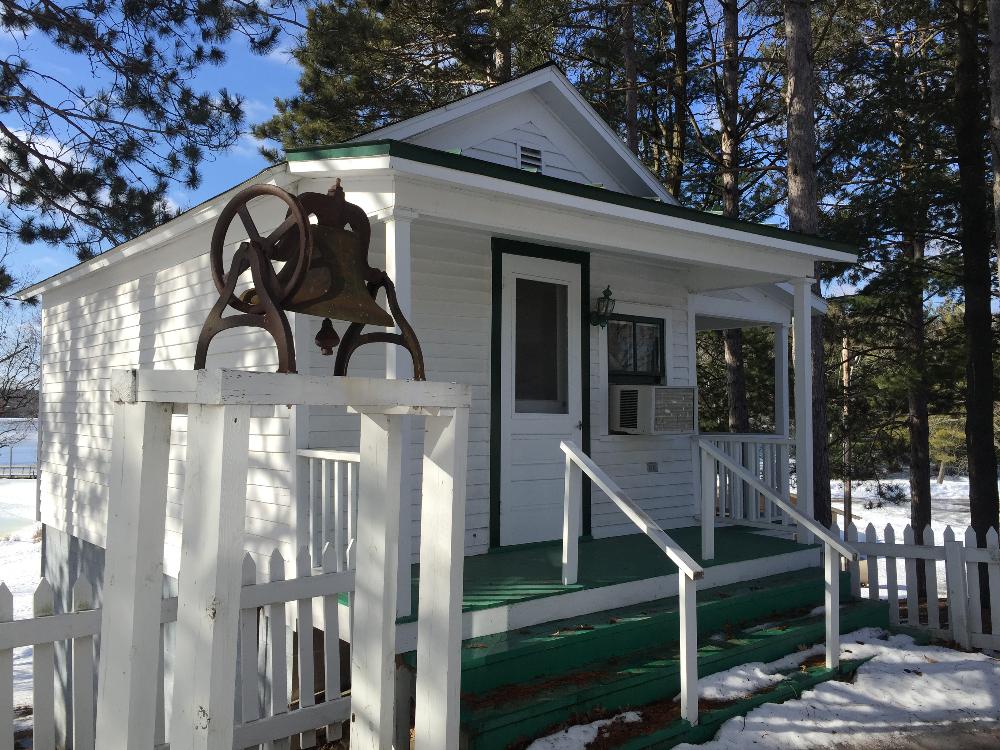 A few years later, porches were added to the cottage, and the interior walls were removed to allow for use as a research library. From 1997 until 2001, it was filled with photographs, books, maps, and other research and genealogical materials.
In 2001, with the purchase of the historic Carnegie Library building, the offices and many of the collections and genealogical and research materials moved out of the King Cottage. It then reverted back to storage for the Hutchinson House collections.
The King Cottage is open to the public during open hours at the Hutchinson House Museum. Exhibits in cottage tells the story of the Chain O'Lakes (including Whispering Pines Park) and the Wisconsin Veterans Home in King.
Thank you for donating to the Waupaca Historical Society and helping us preserve Waupaca and Chain O'Lakes history!
Interested in receiving the latest news from the Waupaca Historical Society? Subscribe with your email address below!
Upcoming Programs at the Waupaca Historical Society!
(all programs at the Holly History and Genealogy Center unless otherwise noted)
Sat., September 17, 10 a.m.-4 p.m.:

Hutchinson House Museum Open in South Park during Fall-O-Rama

Thurs., October 13, 5:30 p.m.:

"Waupaca's Granite Quarry" with Mike Kirk; enjoy a walk around the quarry (Shambeau Park) at 5:30 (meet at the Depot) and then return for a program on the Granite Quarry's history!


Sponsored by Greg and Betsy Russell, Tom Shambeau (in memory of Dave and Emilene Shambeau), Waupaca Foundry and Beiser Realty.




Fri., October 28, 4-6 p.m.:

Brat fry for Halloween on Main in downtown Waupaca


Thurs., November 10, 6 p.m.

: "How to Be An Indian in the 21st Century" with Louis Clark


Sponsored by Trudi Hahn Pickett (in memory of Mr. Jesse Owen, Dakota elder) and Beiser Realty.




Sat., December 3, 10 a.m. - 4 p.m.

: Waupaca's Yuletide Trail
Purchase your cookie tin and participate in the cookie walk! Tins are $20 and support the Waupaca Historical Society.


Sponsored by Community First Credit Union.



WHS COVID POLICY

Masks are not required in our buildings at this time. We encourage visitors to wear masks if they feel more comfortable. We also encourage all visitors to maintain a 6-foot distance from others and remain at home if exposed to COVID-19 or feeling unwell.
Appointments outside of open hours at any WHS buildings can be made at least two weeks in advance by calling the Holly History and Genealogy Center at (715) 256-9980 or emailing
Tracy Behrendt at