HUTCHINSON HOUSE MUSEUM - SOUTH PARK
Open Saturdays, Sundays and Summer Holidays, from 1 to 4 p.m.
Group tours available
ADMISSION IS FREE, but donations are always appreciated!
The Hutchinson House, built in 1854 in Waupaca, is a well-preserved example of New-England-style architecture. The one-and-half story farmhouse was originally built on the corner of West Fulton and Franklin Streets by Chester and Susannah Hutchinson. The home was moved to South Park in 1956. The Hutchinson House is filled with vintage furniture and artifacts from the Victorian era, along with numerous objects from Waupaca's early settlers. The Waupaca Historical Society opened the home as a Museum in 1957 as part of Waupaca's Centennial celebration.
Tours of the Hutchinson House Museum take visitors into the Victorian home and its impressive display of household furnishings, clothing, glassware and textiles, with many of the artifacts having ties to early settlers of Waupaca County. The Hutchinson House welcomes visitors of all ages. Children ages 5 to 12 have the option to participate in activities such as a photo scavenger hunt for artifacts and/or making button spinner toys.
SPECIAL NOTE: If you would like to schedule a group or family tour of the Hutchinson House Museum, please call 715-256-9980. Tours of the Hutchinson House Museum are offered from from Memorial Day through Labor Day. The museum offers tours for the 4th grade classes on weekdays in late September or October.
Interested in receiving the latest news from the Waupaca Historical Society? Subscribe with your email address below!
2021 Spring/Summer Hours
The Holly Center is open for scheduled appointments only at this time. Please call or email director@waupacahistoricalsociety.org
to schedule an appointment today!
If you would like to stop by for a gift shop item or to view the exhibits, make an appointment or stop by on
Thursdays 8:30 a.m. to 2:30 p.m. or
Fridays 8 a.m. to 5 p.m. The door will be locked, but please knock.
Masks are required.
Pick up your "Safer at Home" Waupaca community cookbook today!
Cookbooks are available at the Holly Center and the Waupaca Area Public Library! Cookbooks cost $10 each and support both organizations. The cookbooks feature recipes, stories and photographs from this pandemic year. Get one today!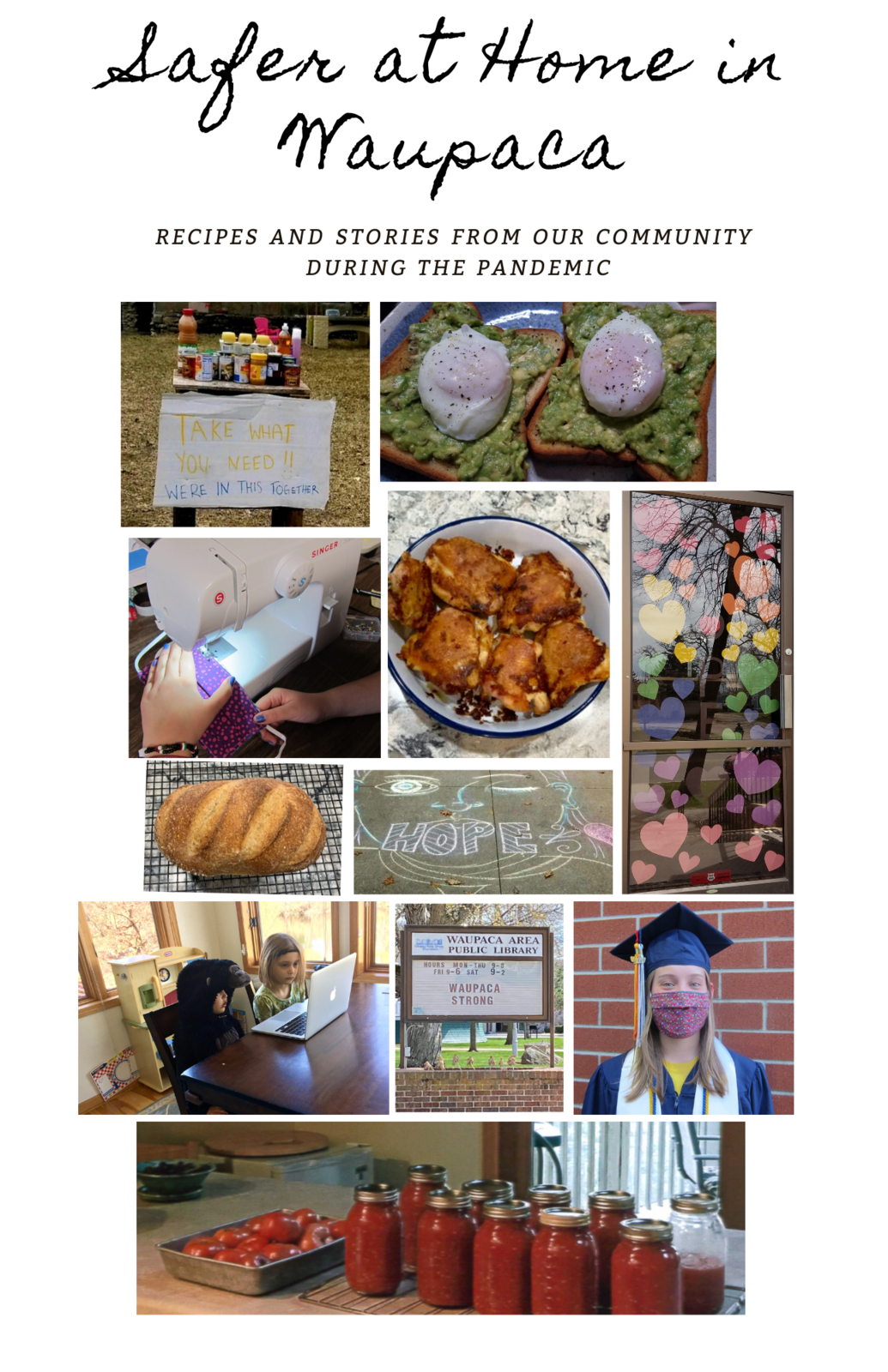 WHS COVID POLICY
Keeping in mind the safety of its volunteers, staff and visitors, the Waupaca Historical Society has decided to open its buildings this fall and winter by appointment only.
People may call or email the Waupaca Historical Society for a one-hour tour or research appointment at the Holly History and Genealogy Center or Depot (as weather permits). Outside of prearranged appointments, the buildings will remain closed to the public. All programs and meeting room rentals are cancelled until further notice.

No one should enter the building—visitors, staff or volunteers—who does not feel well or is experiencing flu-like symptoms, fever or any other COVID-19 symptoms. All visitors and volunteers are required to wear masks during tours and appointments.
Appointments to visit the WHS buildings can be made by calling the Holly History and Genealogy Center at (715) 256-9980 or emailing
Tracy Behrendt at