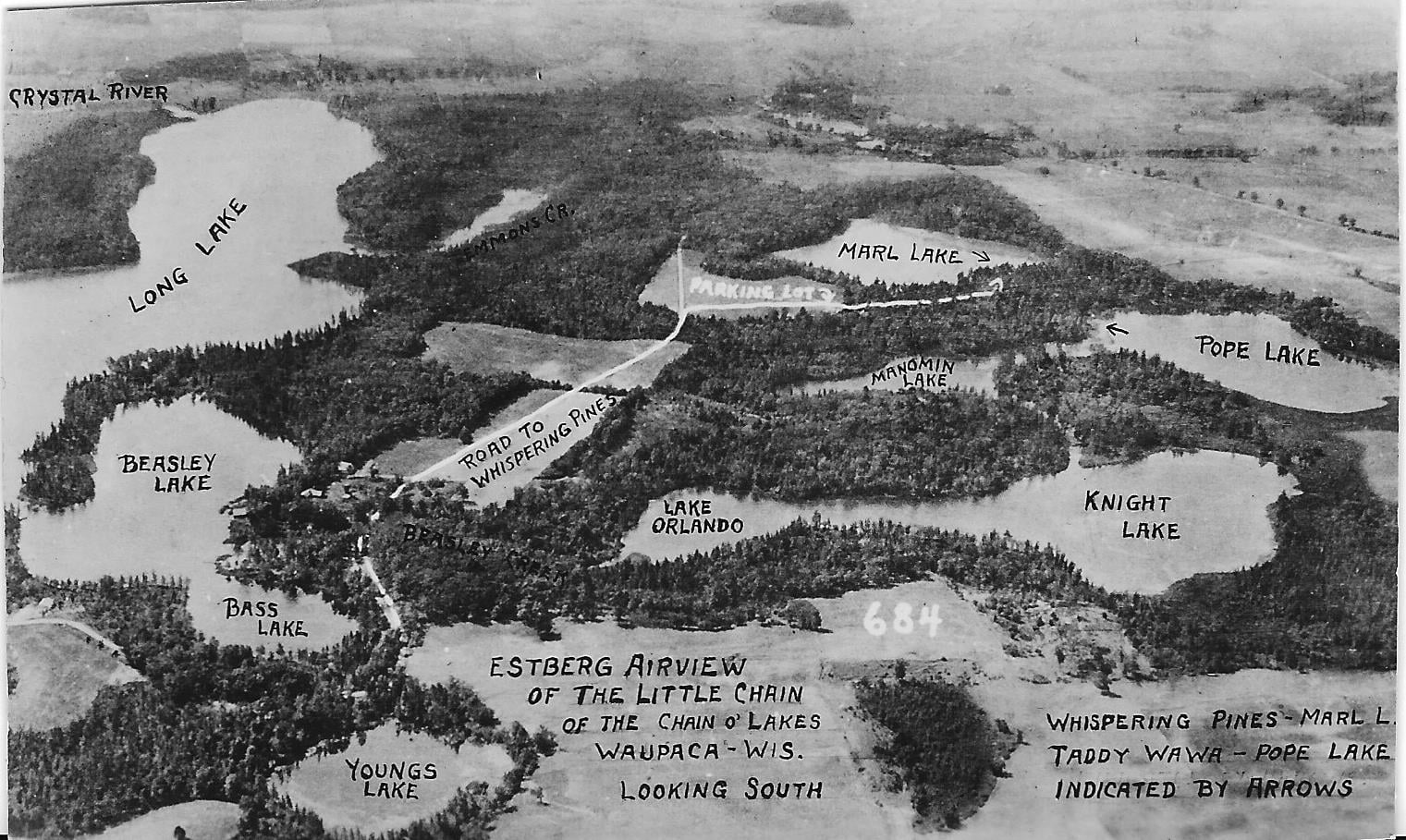 New Chain O'Lakes History Website!
Love old photographs and postcards of the Chain O'Lakes? Interested in the history of the lakes and the tourism that has made the Waupaca area so popular? Check out our NEW Chain O'Lakes website (click on the photo above)! We will continue to add more photographs, postcards and historical articles in the future. A big thank you to Mark Polebitski for all of his work!

Keeping History Alive


Waupaca and the Chain O'Lakes
The Waupaca area, along with the Chain O'Lakes, were long home to the Menominee Indian tribe. The Waupaca River's falls and the nearby lakes provided an abundance of water, vegetation and wildlife. For many years, the Menominee moved around the area as the seasons changed, traveling from their village, likely on Otter Lake, to local camping grounds.
In 1848, a federal treaty relinquished the last of their lands, including Waupaca. In June 1849, the five men from Vermont claimed land along the Waupaca River at what is now the city of Waupaca. These early settlers came to Waupaca looking for the "The Falls" that they'd heard so much about. Eventually the settlement took its name from a Menominee word meaning, "the quality of the light, or morning light on the water."
Waupaca steadily grew around the water, harnessing the power of the falls and welcoming many more settlers, including many Danish and Scandinavian immigrants. The Waupaca Historical Society, located in downtown Waupaca on Main Street, strives to preserve this rich history while educating and informing the public.
Visit one of our four historic buildings today and let us help you discover Waupaca's past today!
Order your "Safer at Home" Waupaca community cookbook today!
Cookbooks are now available for pre-order with the form here! Cookbooks cost $10 each. The form, with payment, can be dropped off at the Holly Center or the Waupaca Area Public Library.
The cookbook, a joint fundraiser for the Waupaca Historical Society and the Waupaca Area Public Library, features recipes, stories and photographs from this pandemic year.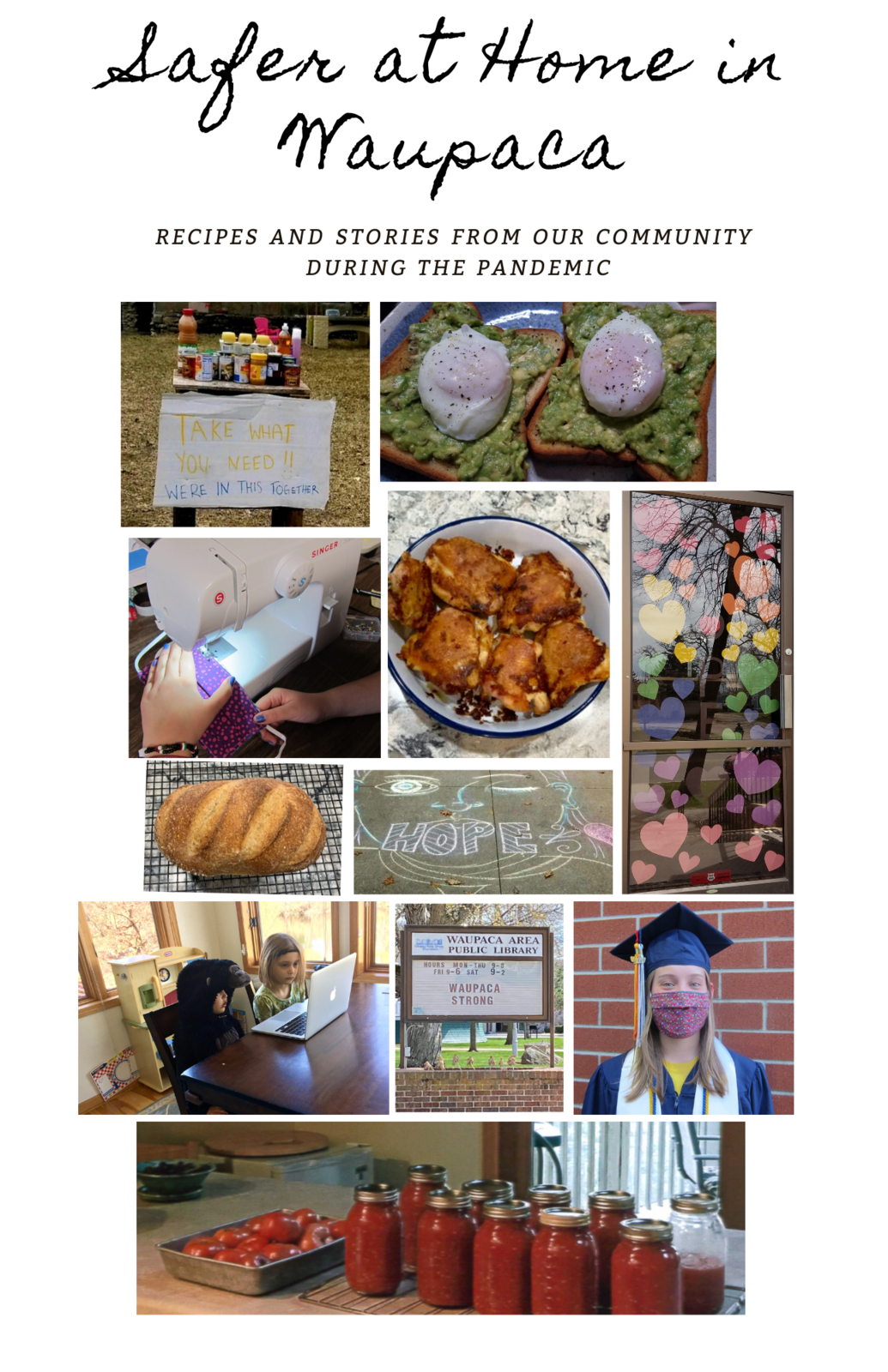 UPDATE ON
2020 FALL PLANS

Keeping in mind the safety of its volunteers, staff and visitors, the Waupaca Historical Society has decided to open its buildings this fall by appointment only.
People may call or email the Waupaca Historical Society for a one-hour tour or research appointment at the Holly History and Genealogy Center, Hutchinson House (as weather permits) or Depot (as weather permits). Outside of prearranged appointments, the buildings will remain closed to the public. All programs and meeting room rentals are cancelled through 2020.

No one should enter the building—visitors, staff or volunteers—who does not feel well or is experiencing flu-like symptoms, fever or any other COVID-19 symptoms. All visitors and volunteers are required to wear masks during tours and appointments.
Gift shop items are available via email or phone for curbside pickup or mail.
Appointments to visit the WHS buildings can be made by calling the Holly History and Genealogy Center at (715) 256-9980 or emailing Tracy Behrendt at