The Holly History and Genealogy Center has many resources to assist in genealogy research, from family files and binders to cemetery records and obituaries. We also now have past Waupaca newspapers on microfilm (through 1996), which are viewable at the Holly Center (no printing capabilities available).
The Waupaca Area Genealogical Society is happy to assist you with your genealogy research! The Waupaca Area Genealogical Society (WAGS) is a separate nonprofit organization dedicated to family and genealogical research. The Holly History & Genealogy Center (321 S. Main St., Waupaca) houses the collections of both the Waupaca Historical Society and the Waupaca Area Genealogical Society. Included in these collections are plat maps, family history files, cemetery records, obituaries, pre-1907 marriage indexes, naturalization indexes, Waupaca High School yearbooks, the Civil War Roster of Wisconsin Volunteers, and numerous other sources of information on early settlers to Waupaca County, Wisconsin.
Volunteers and staff are here to give you an overview of the research area and help you as needed. The director of the Waupaca Historical Society staffs the building on Wednesday and Friday afternoons. Volunteers from WAGS staff the building on Thursdays (10 am to 2 pm) year-round and on Saturday mornings (9 a.m. to noon) during the months of June, July, and August. If you are new to family research or have not visited the Holly History & Genealogy Center before, we recommend that you arrange for assistance with one of the genealogy volunteers. Please contact them two weeks in advance of your visit to Waupaca.
There are also numerous resources available online on the "Waupaca County History and Genealogy Website" (www.wigenweb.org/waupaca), which is part of the statewide Wisconsin Genealogy Web Project.
Contact the Waupaca Area Genealogical Society by calling (715) 256-9980 or email director@waupacahistoricalsociety.org for assistance in setting up an appointment. All genealogy and family history inquiries that are received through the Waupaca Historical Society's website will be forwarded to the Waupaca Area Genealogical Society. For more information about the Holly History & Genealogy Center, including open hours, please click on "Our Historic Buildings" and "Holly Center" on our main menu on the left.
2021 Winter/Spring Hours
The Holly Center is open for scheduled appointments. Please call or email director@waupacahistoricalsociety.org
to schedule one today!
If you like to stop by for a cookbook or other gift shop item, make an appointment or stop by on
Thursdays 8:30 a.m. to 2:30 p.m. or
Fridays 8 a.m. to 5 p.m. The door will be locked, but please knock.
Masks are required.
Pick up your "Safer at Home" Waupaca community cookbook today!
Cookbooks are now available at the Holly Center and the Waupaca Area Public Library! Cookbooks cost $10 each and support both organizations. The cookbooks feature recipes, stories and photographs from this pandemic year. Get one today!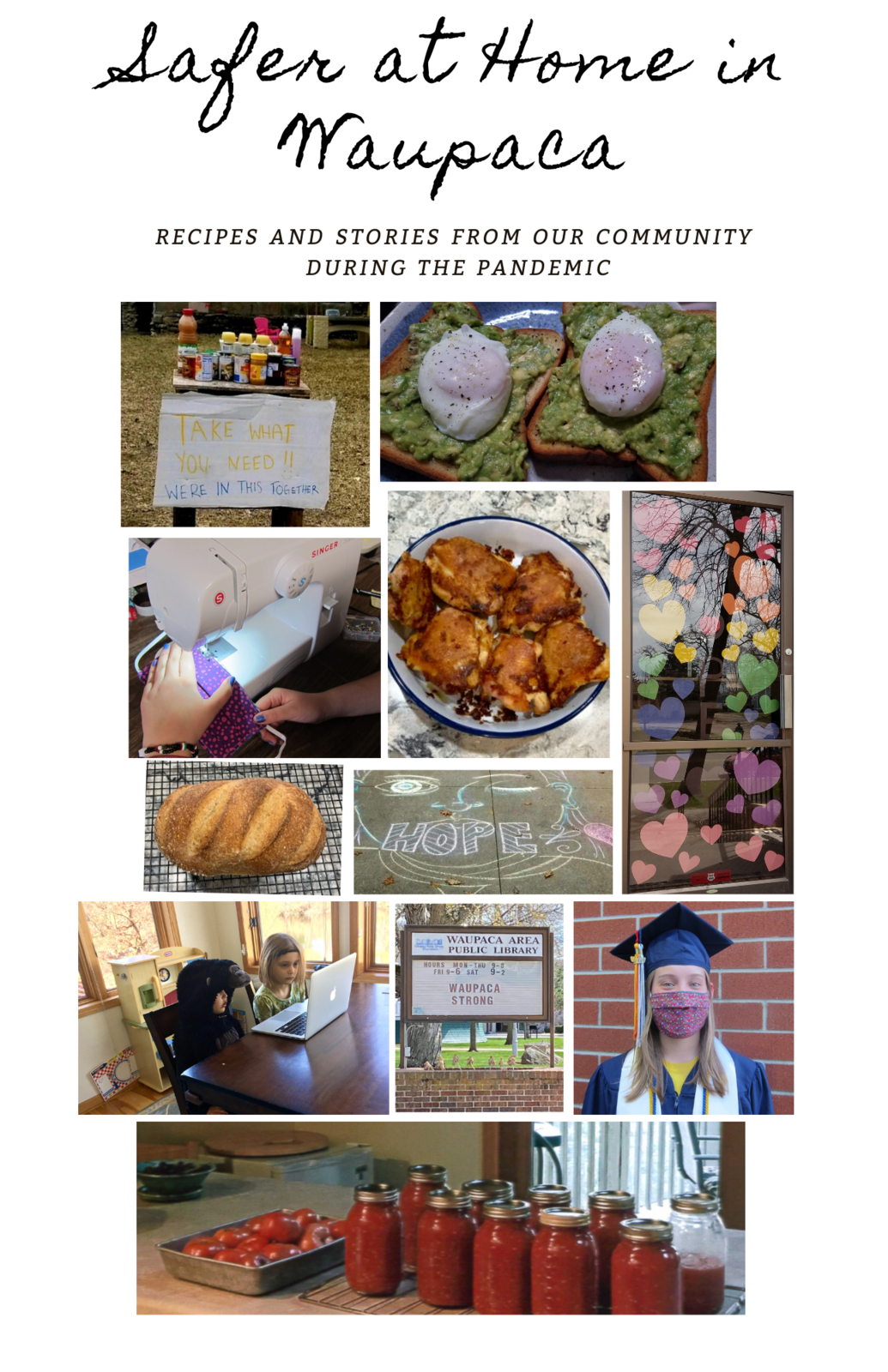 UPDATE ON
2021 WINTER/SPRING PLANS

Keeping in mind the safety of its volunteers, staff and visitors, the Waupaca Historical Society has decided to open its buildings this fall and winter by appointment only.
People may call or email the Waupaca Historical Society for a one-hour tour or research appointment at the Holly History and Genealogy Center or Depot (as weather permits). Outside of prearranged appointments, the buildings will remain closed to the public. All programs and meeting room rentals are cancelled until further notice.

No one should enter the building—visitors, staff or volunteers—who does not feel well or is experiencing flu-like symptoms, fever or any other COVID-19 symptoms. All visitors and volunteers are required to wear masks during tours and appointments.
Appointments to visit the WHS buildings can be made by calling the Holly History and Genealogy Center at (715) 256-9980 or emailing
Tracy Behrendt at